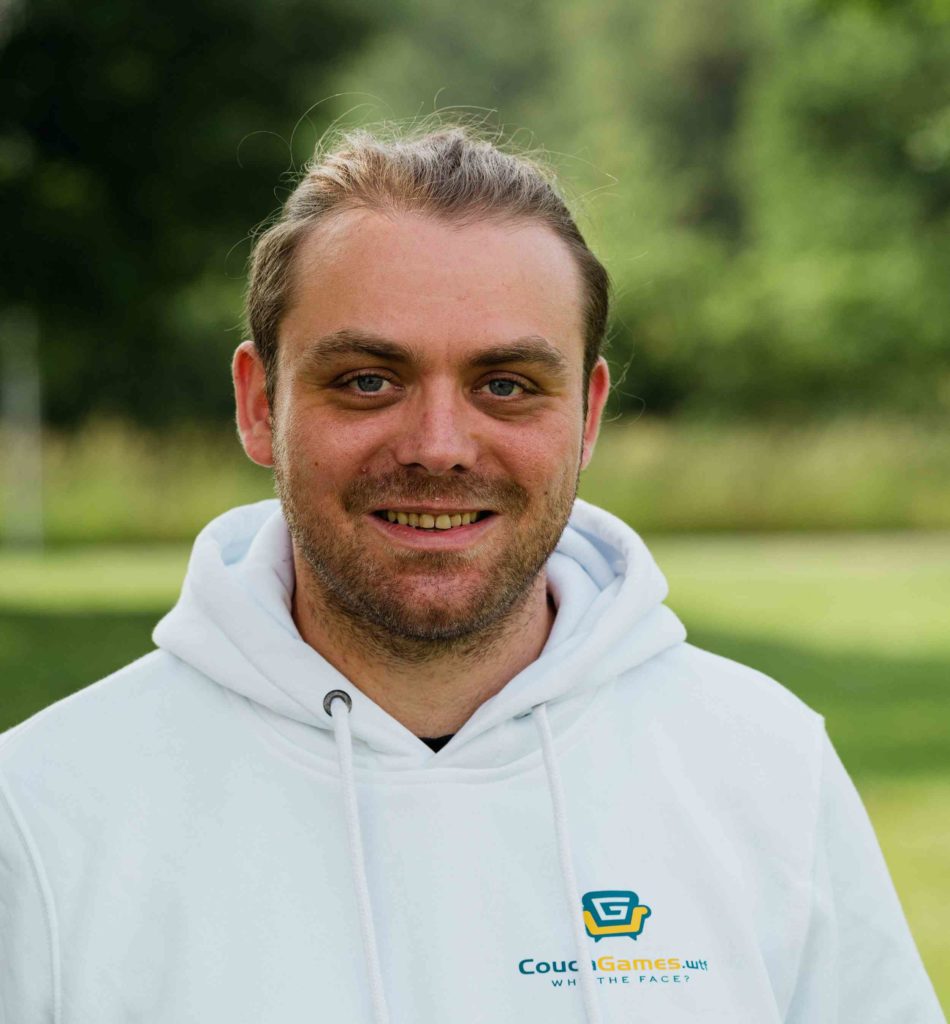 York
Developer & Founder
I am a developer… so I develop 🙂
My favourite games: Anno, Command and Conquer, Stronghold, Battlefield 1942, Anno 1800, Desperados 3 und Fifa
I like: I love being in nature, everything that has to do with my computer and my family.
I don't like: mushrooms, cold coffee and boring games
In my free time I love hanging out with my girlfriend, cooking and of course programming awesome games 🙂
My favourite energy drink: RedBull
What else: I have a very black sense of humour. We like to play board games with the family. When I'm not working on couchgames.wtf, I work as a software developer for a German company.
My motto: No pain, no gain!
Marc
Business Developer & Founder
I had the initial idea of couchgames.wtf and then developed the concept from that.
My favourite games: Anno, PUBG, Rainbow Six Siege, CS, AOE2, Zelda, COD MW, Magic the Gathering.
I like:My family, gambling and beer.
I don't like: Unreliability and Corona.
In my free time, I play with my daughter until she is old enough to play video games with me.
My favourite energy drink: RedBull sugar-free
What else: When I held my first Amiga 600 in my hands, it was clear to me that computer games would define my life. When I'm not working on couchgames.wtf, I'm a ProductOwner of an IT operations team.
My favourite radio station is deep.radio
My motto: Work hard, play games!
Hi. We are couchgames.wtf! We love to play for our lives. Whether on our mobile phones, a console, on the PC or on the classic living room table. We are a small team spread across Europe.
We have made it our goal to create the ultimate accessible game collection for visually impaired people! We want you and your friends to have many fun and exciting moments with couchgames.wtf. That's why we're creating this gaming platform. By players, for players.
Try it out now! couchgames.wtf is free and doesn't hurt 😉
WHAT DO WE DO DIFFERENTLY?
With couchgames.wtf you will be able to play many classic games right away. All you need are fellow players and your smartphones. Only the inviting player must have installed the app. All others can play along via the browser.
You can use your SmartTV, PC or tablet as the main screen to display the pitch or other interesting content. For this, the device only needs to have internet and a browser.
We want you to be able to play the games even with people who are not technically proficient. Your parents, for example! That is why we pay attention to simplicity in the usability of our games. Simply send your parents an invitation to the game via WhatsApp – enter your nickname and off you go!
We believe in inclusion and do what we can in the area where we work closely with visually impaired people in the development of our games. We want our games to be accessible for visually impaired people and eyesight does not make a difference when choosing entertainment. This does not mean that we develop extra games for the blind. We also develop and digitise classic games that have until now been denied to visually impaired people. We want everyone to be able to play the same games together. Technology makes it possible!